Pastor's Pen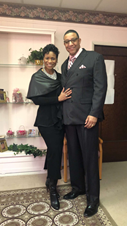 Greetings in the matchless name of our Lord and Savior Jesus Christ!!! I want to personally thank each one of you for visiting our website today. Truly our website is a labor of love and a work in progress just as we all are!!!
I would like to share a word that the Lord gave for our church for 2019 and that word is THRIVE. The meaning of thrive is prosper, flourish, bloom, blossom, advance, make strides. So our theme for this year is "Strive To Thrive!!!
To further illustrate this the Holy Spirit broke this word down into an acronym:
T – Trust H – Health R – Refresh I – Increase V – Victory E – Encourage
Trust - Proverbs 3: says "Trust in the Lord with all thine heart, lean not to thine own understanding, in all thy ways acknowledge Him and he shall direct thy paths. Trusting in the Lord in all things is vital to our ability to thrive!!!
Health – 3 John says "Beloved I wish above all things that thou mayest prosper and be in health, even as our soul prospers. Being healthy in every aspect of our lives is also vital to our ability to thrive. The Lord desires us to thrive in every of our lives and in our churches as well!!!
Refresh – Acts 3:19 says, Repent ye therefore, and be converted, that your sins may be blotted out, when the times of refreshing shall come from the presence of the Lord;.. As we spend time in the presence of the Lord we continually receive refreshing from Him. In order to thrive we need to make sure we are spending quality time in His presence through prayer, worship, the study of His Word and meditation.
Increase – 1 Corinthians 3:6 reminds us "I have planted, Apollos watered; but God gave the increase". We all have a part to do in our striving to thrive but we must always remember it is God who gives the increase!!! In our striving to thrive let us continually plant and water and watch God provide the increase!!!
Victory – 1 John 5:4 says "For whatsoever is born of God overcometh the world: and this is the victory that overcometh the world, even our faith". We who are born of God already have the victory. We are more than conquerors through Him so we have already won so we can thrive because we are victorious in the Lord!!!
Encourage – The Bible says that "David encouraged himself in the Lord…" In order to thrive we must learn the art of staying encouraged in the Lord no matter what's going on. When we stay encouraged we will continue to thrive and prosper!!!
So there you have it!!! My prayer for you is that you thrive like never before in Him and I hope that what I have shared with you will set you on a path to thrive in Jesus name!!! God bless you and keep you is my prayer!!!
Yours in Christ,
Pastor David Goins