Pastor's Bio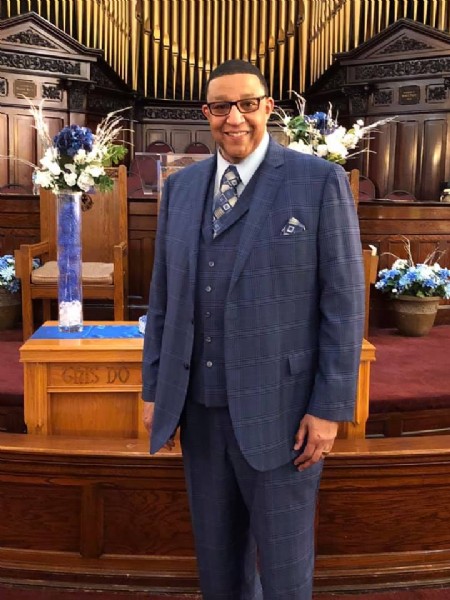 A Man After God's Own Heart
David A. Goins was born on July 26, 1960 to Mark and Opal Goins; stillborn at birth, given up for dead, but the Lord had other plans. David received his formal education at the Alton Public Schools and graduated from Alton High School in June 1978. While attending high school, he played basketball and was selected as "Player of the Year" by the Alton Exchange Club during his senior year. Upon receiving a full basketball scholarship, Daivd attended College of the Ozarks in Clarksville, Arkansas, playing all four years. In 1983, he received a Bachelors of Arts in English Degree.
While attending college David accepted the Lord, Jesus Christ as his personal savior on October 11, 1981 at New Life Christian Center in Clarksville under the leadership of Rev. Raymond Manguno, he was baptized and received the baptism of the Holy Spirit. After graduating from college, David returned home to Alton where he began working at the Madison County Court and Probation Serices as a Home Detention Officer and Correctional Officer.
It was during that time he married his high school sweetheart, Sheila Elaine Rodgers on June 16, 1984. They hae three lovely children Odell, Mark and Sarah.
In 1986, David continued his law enforcement career and became a Police Officer in the Alton Police Department. David began attending Church of the Good Samaritans under the leadership of Pastor Tom Covington; it was at that time that he accepted the call to the ministry to preach the Word of God. Rev. Goins was ordained as a Minister of the Gospel in June of 1988 by Pastor Covington. During this time at the Church of the Good Samaritans, Rev. Goins was a faithful minister, Bible study teacher and good steward under the tutelage of Pastor Covington.
With the leading of the Holy Spirit, Rev. Goins was led to serve under the leadership of Pastor Governor Harris at Brown Faith Temple Church of God in Christ. While there, he continued to develop as a Minister and to hone in his preaching skills under the guidance of Pastor Harris.
During his law enforcement career, Rev. Goins was a positie influence. During his tenure at the Alton Police Department, he served as a D.A.R.E. Officer and School Resource Officer in the Alton School District for 7 years and a state certified Elderly Services Officer and Victim Assistance Officer throught the Illinois Attorney General's Office. In 1999 Rev. Goins was awarded "Man of the Year" by the Boys and Girls Club. In 2000, Rev. Goins was a Madison County Urban League Award recipient and was also being promoted to the rank of Sergeant in the Alton Police Department. Rev. Goins was blessed to retire from the Alton Police Department after 25 years of service in 2010.
While serving as an Associate Minister and Assistant Pastor under his long time friend and Gospel Brother in Ministry Pastor Gregory Denton, he felt a higher calling and sensed in heart the call to Pastor. He applied for the position as Pastor of Morning Star Missionary Baptist Church. As a result, on November 25, 2001 Rev. Goins was found faithful by God to assume to awesome responsibilty of being Pastor. Rev. Goins preached his first sermon as Pastor on December 2, 2001.
Under his leadership as Pastor of Morning Star, we have now been referred to as "Bapti-costal"; even though we know the Holy Spirit has always dwelled among this congregation. Pastor Goins' charismatic voice seemed to proclaim enthusiastically the "Utterances of Tongues", "Dancing in the Spirit" and "Laying on of Hands" and soon became open expressions and routine during our Sunday Worship services.
Another milestone was turned on November 12, 2006 when Morning Star purchased and marched into our current edifice here at 1 East 6th Street. On November 26, 2006 our sister churches and the city of Alton joined us as we gave thanks and dedicated this grand house of Worship to God. Under Pastor Goins' leadership old stereotypes have been broken; women, too, have been recognized as God's own messengers of the Gospel and while celebrating Women's Day 2007 Morning Star presented a minister's license to our own First Lady Sheila Goins.
He is also community and outreach minded as he is currently serving as President of the Alton Area Interdenominational Ministerial Alliance. Pastor Goins also has a heart for young and displaced men of our community and is prayerfully seeking ways to minister effectively to their needs. Pastor Goins has encouraged new ministries and a new attitude of spiritual growth as Pastor of Morning Star Missionary Baptist Church.